Butterfly and ribbons
To celebrate this Birthday
Brought to you with happiness
With love that comes your way

Wishing you the sunshine
wherever you may go
Peace and love to greet you
That gives a special glow
All you love surrounds you
On this your happy birthday
Knowing you are thought of
In a very loving way.

When the day is over
And all is said and done
Knowing that your Birthday
Gave happiness to everyone.


For we are truly grateful
To have a chance to say
You both mean so much to everyone
On this and every day.

~ Francine Pucillo ~


Join us for a piece of Aurora's Birthday cake!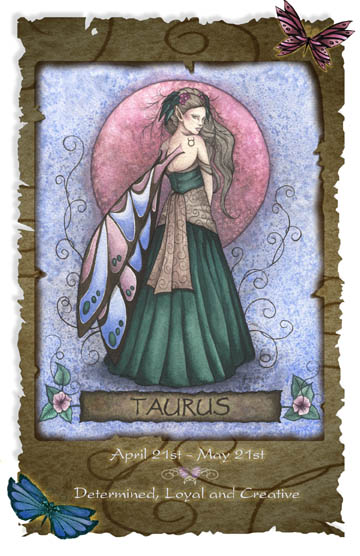 Taurus Traits
Patient and reliable
Warmhearted and loving
Persistent and determined
Placid and security loving
On the dark side....

Jealous and possessive
Resentful and inflexible
Self-indulgent and greedy
LIKES
Stability
Being Attracted
Things Natural
Time to Ponder
Comfort and Pleasure
DISLIKES
Disruption
Being pushed too hard
Synthetic or "man made" things
Being rushed
Being indoors