WELCOME TO AURORA'S PHOTO PAGE

| | |
| --- | --- |
| | I want to share some of my recent photograpy with you all. Every day when I step out my front door, I am never sure what I will see next. All of these photos were shot out in my backyard. The dawn photos were shot at 5 A.M. one morning when I got up early and went outside for some air. The Yellow Field was shot as I left for work one morning. I couldn't believe my eyes and had to dash back in for my camera. I hope you enjoy the scenes as much as I enjoyed taking the photos. Oh, all the photos are copyrighted and cannot be used by anyone on the internet. If you really, really want to use one, please drop me a note at aurora@interactive.net and we can discuss it. Please respect my wishes and do not steal my work. Thank you and hope you enjoy the scenes below. |

Here is one of my latest photographs - Violets in the Spring!



Here is one of my latest photographs - Green fields in the Spring of 1999!






Here is a new scan I just did- I took this photo of a seacoast in Nova Scotia one foggy morning.



This is a photo I shot out in my backyard one lovely June night, 1998!





This was taken at 5 A.M. one fall day this year.





As the sun came up a little more, I took this shot off my balcony.
You can see the outline of the porch and building if you look really close.





As the sun rose even further, you could see this layer of
cotton ball-like clouds blazing in reds and pinks. It was a
sight I won't forget for a long time!!!!!!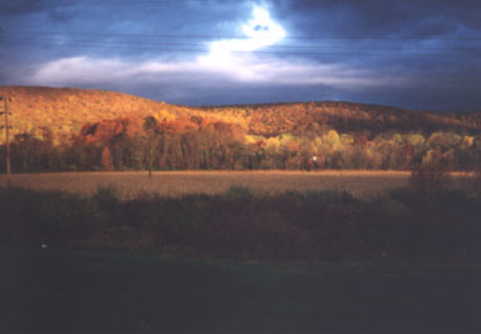 This was the photo I had to rush back in the house and get my camera to take.
I just couldn't let this one go by. I am very pleased with the results...
it looks even better in the actual photograph.
(The net does not do justice
to a lot of photos.)





FOR A LIST OF MY OTHER PHOTO PAGES
PLEASE VISIT MY SITEMAP.

Here is our Navigation Bar to get around our site:





Sitemap